Friday 24th January 2014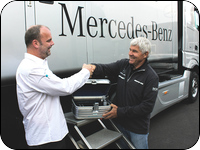 For more than 20 years, the Austrian, Toni Mathis, has been the physiotherapist the AMG Mercedes DTM team relies on. He is primarily responsible for the fitness, power, regeneration and well-being of the currently 8 company drivers as well as of some officials. Widely experienced and open-minded about natural health and complementary therapy methods and based on the pleasant results and experiences he had with Airnergy, it is officially thanks to him that the DTM drivers at AMG Mercedes and the team members now regularly recharge their batteries with Airnergy and count on it as a legal method to promote stamina, concentration and regeneration.
"After the two-year testing period with Airnergy that I was able to carry out in private and at my practice, I am absolutely convinced that Airnergy is a helpful therapy method for my Mercedes DTM drivers. We are fighting for hundredth and thousands of milliseconds and not for the ranking anymore. We do anything for the pilot to make sure his energy is in balance, to make him feel fresh and relaxed and to ensure that he can recharge his batteries on the energetic level, because we know – we need the best possible utilisation of oxygen. I think for our success it is very important, that Airnergy is available to us this season." Toni Mathis
You will find further information about the advantages and possibilities of the application of Airnergy in professional motor sport at www.setupyourself.com.